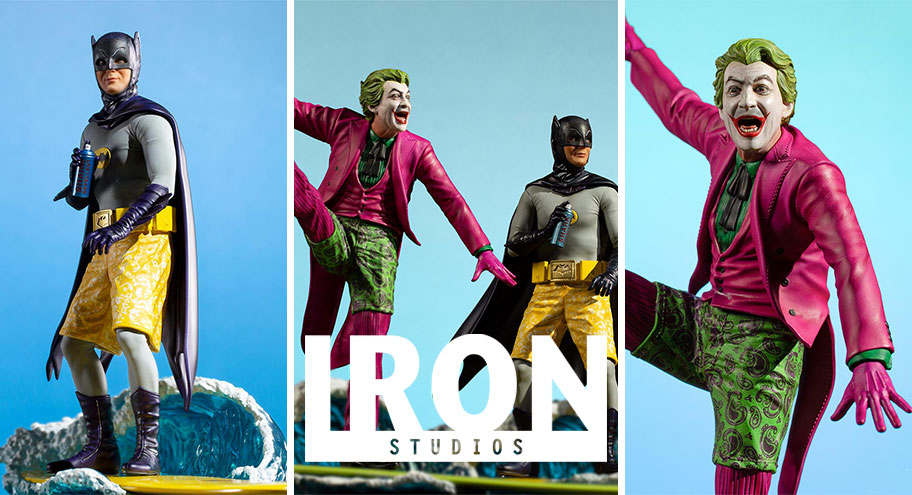 Iron Studios: Batman & The Joker Deluxe BDS Art Scale 1/10 – Batman 66
26 Luglio 2020
Iron Studios apre i preordini di altre due statiche rivelate durante il Sideshow Con 2020. Si tratta di Batman & The Joker dalla serie televisiva del 1966 "Batman". I personaggi saranno ricreati come visti nell'episodio 10 della terza stagione "Surf's Up! Joker's Under!".
Le due statue faranno parte della linea Deluxe BDS Art Scale, in scala 1/10, prodotte in resina e dipinte a mano. Entrambe si baseranno sui riferimenti originali della serie TV, pertanto, li troveremo sulle rispettive tavole da surf mentre cavalcano le onde. Vediamole singolarmente.
Batman Deluxe BDS Art Scale
La figure rappresenta l'attore Adam West nei panni di Batman. Essa avrà un'altezza di circa 21 cm, una larghezza di 27 cm ed una profondità di 12 cm per un peso stimato di 640 g. L'eroe, con indosso il costume da bagno, sarà dotato di un repellente per gli squali in formato bottiglietta spray.
The Joker Deluxe BDS Art Scale
La nemesi per eccellenza del nostro eroe, interpretata da César Romero, sarà alta 23 cm, larga 27 cm e profonda 17 cm per un peso di circa 625 g. Sprezzante del pericolo il clown, anche lui con il costume da bagno sopra i vestiti normali, sarà scolpito in equilibrio sulla gamba sinistra.
Batman & The Joker Deluxe BDS Art Scale 1/10 – Batman 66 di Iron Studios saranno realizzate in edizione limitata ed avranno entrambe un prezzo di 149,99 USD.
I due verranno rilasciati indicativamente a partire dal secondo trimestre 2021.