Aperti i preorder su Amazon Japan, ad un prezzo di 12420 yen, circa 97 euro.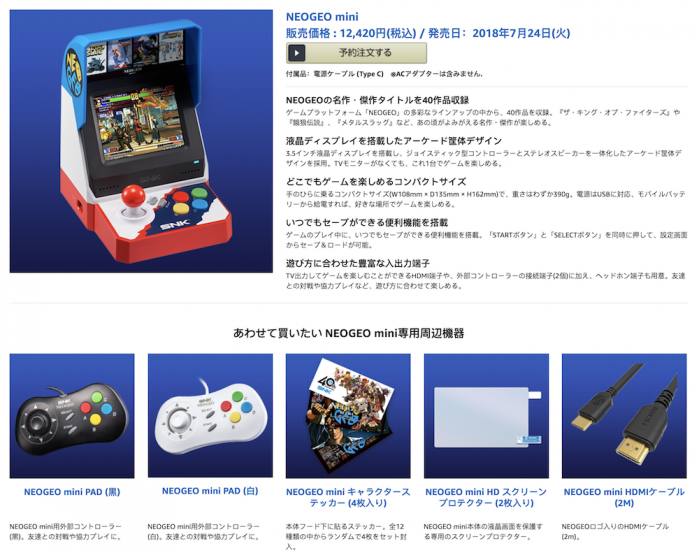 Si attendono comunicazioni ufficiali per il mercato occidentale
Comunicato originale di SNK:
SNK NEOGEO mini Japanese version First Global Release on 24th July, retail price (game console only) is 11500 Japanese yen.
SNK Corporation announced today that SNK NEOGEO mini, the 40th anniversary of the SNK brand, is pre-sold to the Japanese region through the official SNK online store and Amazon Japan.NEOGEO mini game console pre-sale price is 11,500 yen (excluding the tax , approximately US$104, 675 RMB, 115,500 Korean won, 3155 TWD, and 816 HKD, and the currency is used according to the requirements of each region in each country).NEOGEO mini will be available for sale on 24th July in Japan. Pre-sales and sales of other countries and regions in the world will also be launched.
NEOGEO mini accessories such as controllers (black and white, two colors), stickers, HDMI cable (TV output) are also synchronized open pre-sale. NEOGEO mini game console and accessories can be set as a variety of packages, and are only sold in the SNK official online store.