Dal celebre videogame Batman Arkham Knight videogioco action-adventure del 2015, sviluppato da Rocksteady Studios e pubblicato da Warner Bros. Interactive Entertainment per PlayStation 4, Xbox One e Microsoft Windows, arriva questa action doll di alta qualità prodotta da Hot Toys.
Accessori e costume di grande qualità, effetti LED nell'elmo principale e armatura intercambiabile (elmo compreso) per eseguire la trasformazione in Red Hood, proprio come nel videogioco.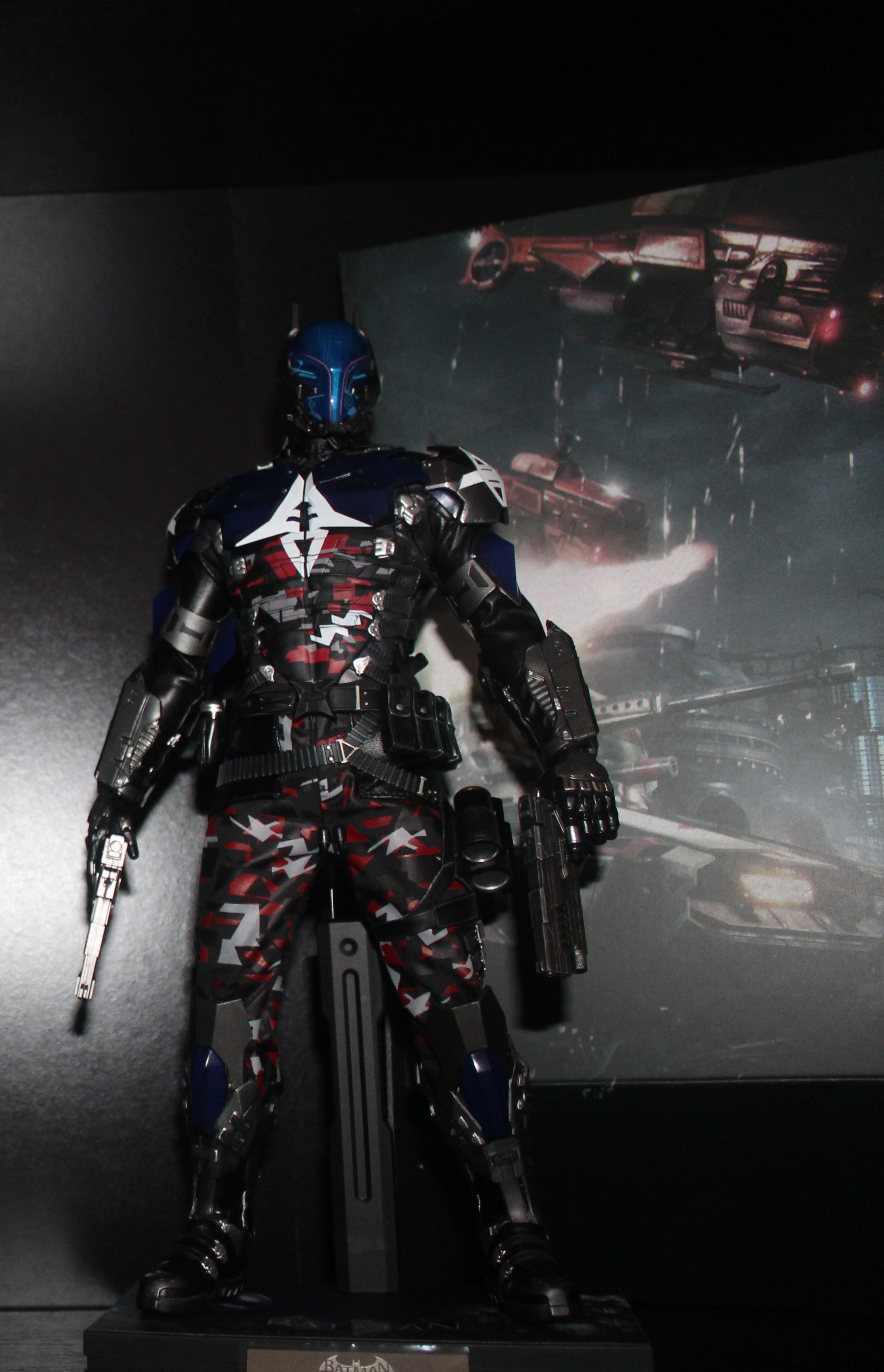 Una figure che stupisce per l'impatto visivo e per i dettagli che Hot Toys ha saputo conferirgli grazie ai numerosi effetti di usura sulle placche dell'armatura.
Le stoffe sono di qualità e permettono una buona posabilità della figure tuttavia consiglio di stare attenti a non stressarle troppo per evitare che si formino pieghe nel tempo.
Se siete collezionisti di questo genere di prodotti sapete a cosa mi riferisco.
La dotazione di mani è nella media delle figure come questa e possiamo trovarne di ogni tipo, da quelle chiuse a quelle più aperte comprese quelle per tenere le armi in pugno.
La basetta inlcusa nella scatola è in linea con le altre uscite della serie, viene inoltre incluso un fondale da poter collocare dietro la figure se volete esporla in modo scenografico. Chiudiamo con le foto che mi sono divertito a realizzare alternando l'outfit da Arkham Knight a quello di Red Hood.
Arkham Knight
Red Hood
Ho acquistato questa figure dal negozio Animetoys che la vende ad un prezzo di 339 €
Hot Toys è distribuita in italia da
PBM
SPECIFICATIONS
PRODUCT CODE

VGM28

PRODUCT NAME

ARKHAM KNIGHT

HEIGHT

APPROXIMATELY 32 CM TALL

POINTS OF ARTICULATIONS

30

SPECIAL FEATURES

ARKHAM KNIGHT HELMET WITH LED LIGHT-UP EYES, INTERCHANGEABLE RED HOOD HELMET AND ARMOR PARTS

ARTISTS

HEAD SCULPTED BY N/A.
HEAD PAINTED BY N/A.
HEAD ART DIRECTED BY N/A.
 The 1/6th scale Arkham Knight Collectible Figure's special features:
– Authentic and detailed likeness of Arkham Knight in Batman: Arkham Knight game
– One (1) blue colored Arkham Knight helmet with LED light-up eyes (white light, battery operated)
– One (1) interchangeable red colored Red Hood helmet
– Approximately 32cm tall
– Body with over 30 points of articulations
– Nine (9) pieces of interchangeable gloved hands including:
– One (1) pair of fists
– One (1) pair of relaxed hands
– One (1) pair of hands for holding guns
– One (1) pair of gripping hands
– One (1) gesturing right hand
Costume :
– One (1) greatly detailed and tailored camouflage battle suit with armor plating and Arkham symbol on chest
– One (1) utility belt with pouches
– One (1) pair of black and blue colored gauntlets
– One (1) pair of black boots and blue colored boots
– One (1) set of interchangeable Red Hood armor parts on chest, arms and legs
Weapons:
– One (1) sniper rifle
– One (1) pistol
– Two (2) modified handguns
– Three (3) smoke grenades
Accessory:
– Specially designed figure stand with game logo and backdrop
Release date: Approximately Q1 – Q2, 2018